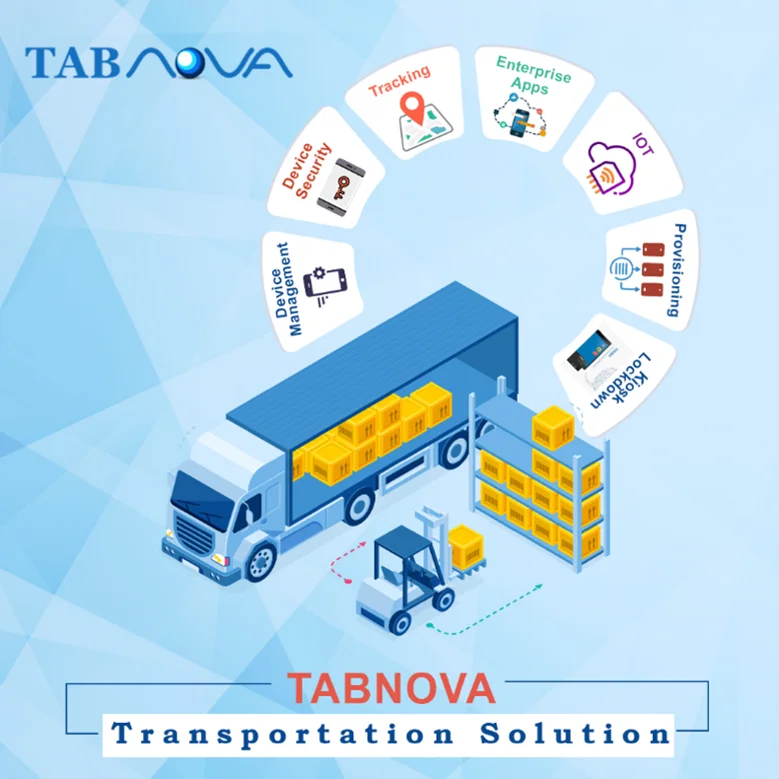 TABNOVA TRANSPORT SOLUTIONS
In a fast and dynamic world where, from farming to latest technology keep changing with new steps, we humans do develop a nature to cope with it. As the world is now facing a crisis like it has faced many before, it is important that we have found ways to overcome the difficulties and barriers. When it comes to the transportation facilities, current
TABNOVA
provides transportation systems relatively high level of service to their client,
TABNOVA
do came forward with innovative methods to keep the world moving among others. With thousands of customers around the globe, TABNOVA with their customer first philosophy has become a widespread popular name throughout the years and manage nearly 3 million devices today.
TABNOVA
transportation solutions prioritizes client's needs in the first place and provide solutions that reduce the cost and enterprise mobility. Remote management, security, and analytics of applications and content are the main areas TABNOVA solutions look into.
Tabnova's Transportation Solution
helps to manage a number of vehicles connected to mobile devices from a single system.
Device management, Device Security, Tracking, Enterprise Apps, IoT, Provisioning,
and
Kiosk Lockdown
are the features of TABNOVA solutions. Here are some points which confirms you why approaching TABNOVA is one of the best choice to make when it comes to transportation solutions.
Password Security, Alert Notification and Lockdown of Device

The applications and files can be installed from Tabnova EMM to multiple end devices. This reduces the complexity regarding technical knowledge of device users. Also provides password options for security and have options for device reset and wiping out data. Using KIOSK Lockdown, the device can be managed as the user can only get access to corporate applications and files. Some other highlights are customization of wallpaper, sending messages to the user. Transport admin can lockdown the device in a way the user cannot be exited and admin can also exit from a single device.



Device Security and Tracking

Tabnova provides built in device security using

KNOX

and Android Enterprise. After using or completing a shift, the device can be reset into it's original state by wiping out all the data and files. This can be done through manually and by rebooting the device and can be managed from

MDM

profile or by managed configuration.

Allows Live Tracking in a Single Interface Map

Live tracking helps the admin to manage a fleet of vehicles from a single system. Tabnova Solutions provides the creation of Geo fences to access the position of vehicle and also shows whether the device is online or offline.



Enterprise Apps, IoT and Provisioning

The ready to use apps for managing and developing the existing efficiency of the fleet from TABNOVA can be configured manually. Threat protection, secure dialing, speed trigger, selective wipe is some of the highlights of the enterprise apps. Installing IoT sensors which are managed by TABNOVA EMM, the dashboard displays the live temperature, pressure and humidity through the equipped mobile devices in the vehicle and get GPS and time stamp at each data points. This given information or data can be converted into excel files. TABNOVA provides the configuration of installing multiple sensor devices in single vehicle, automatic email alert and alerts based on certain thresholds.

TABNOVA, by using cloud service also offers Provisioning where the device need not to be provisioned by the customer and thereby causing no space for any human errors and leading to saving time and money.
Living in a world of constant changes and challenges, Tabnova established a position in transportation and logistics by providing the best solutions and by earning the customers trust. The Heist er-kamp of Netherlands, efficiently work and organize their transports with the help of Tabnova Solutions. This helped them to keep tracks of their fleets, tracing the location of trucks and keeping and wiping the driver's data before and after the shifts and more. Like this, many companies are trusting TABNOVA and reaching to us for their solutions.
If you wish to know more about us or to clear any of your doubts, feel free to contact us through
service@tabnova.com
. You can also call at +442031294012 or visit our Website
https://www.tabnova.com
. To a better progressive world, let us move forward hand in hand.
For details: click here.