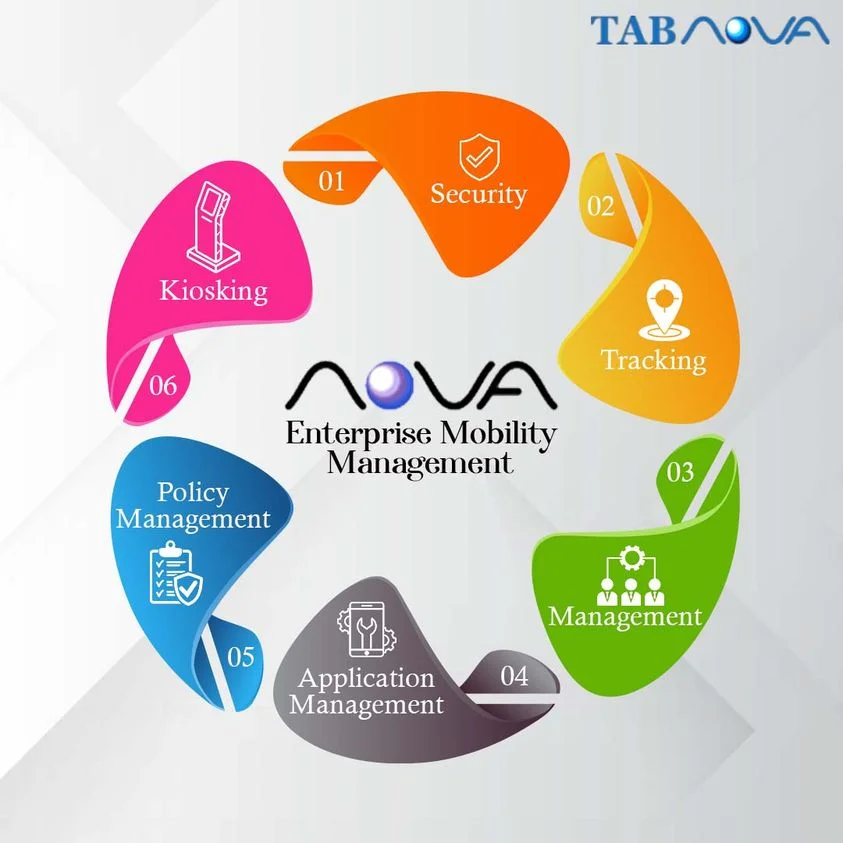 Why Clientless NOVAEMM Is My First Choice?
Easiest and Most Reliable Clientless EMM
In today's time, technology has progressed so much, and if we talk about technology, then the first device comes to mind is mobile phones. In today's world, no work is done without a device, whether it is a child's homework, or to know something for older people, and if we talk to the device, then with the device, now we can do our own business sitting at home. But then it comes to the security of the device we use because today everyone does business, no matter how big or small the business is, there is always a fear that someone might steal the data of our device if something is wrongly downloaded and our data goes into the hands of a wrong person, then it can create a big problem. Whenever we download something on the device, we must accept a lot of permissions.
For how long I was searching that I can find some such product that is safe, secure, may be easy to use, and which is clientless, and finally, my hard work paid off, I saw the NovaEMM product, which are launched recently by TABNOVA company, and decided that 2 devices are free, try using it if it doesn't match with my expectation then I will delete. But when I saw the features of NovaEMM I got everything I wanted.
Why only choose TABNOVA EMM?
Enterprise Mobility Management (EMM) or Mobile Device Management (MDM) is a powerful infrastructure tool for IT managers to manage all company-managed devices from a cloud portal. Mobile device management helps you manage and secure your organisation's fleet of mobile devices from a cloud portal. EMM solutions also control apps, content, and security so employees can work on managed devices without worries. Also, EMM provides a comprehensive kiosk (Single App, Browser, Multi App, Digital Signage) configuration capability that enterprises leverage to secure corporate data on dedicated or single-purpose devices while providing the right level of access to resources.
Why Business needs Clientless EMM?
EMM plays a major role in any company. It gives the power to the companies to control and protect their data by managing mobile devices. It helps to safeguard the data on the tablets and phones used by the employees. If a business uses the EMM, then it is basically protecting privacy against data breaches.
Just 4 Easy Steps to Use NovaEMM and You Can Easily Control the Entire Device, and this NovaEMM is clientless because it doesn't ask for any permissions and does not download any app, and keeps your device's data with itself. Tabnova's EMM/MDM service is called NovaEMM, which is a complete clientless Android enterprise implementation with all the features of EMM, i.e., Apps Management, Content Management, Device Security, Kiosk Mode, OS Update Management, and much more. So, if you want to use NovaEMM, there is no client app installed on the device and hence no data is uploaded to a server, hence it ensures 100% data security. You can easily download your favorite app from the play store for any device. You can disable it whenever you want, and you will have complete control of your device, with no more fear of stealing your device data. I am telling you this with a claim because I have been using this recently and after using it, I have benefited a lot. I thought as if I benefited by using clientless EMM, If I can reach out to the people who can use clientless EMM, then every person who has a business, even if it is small, will also benefit. Because in today's time everyone sees the benefit of their own business and if you start using this clientless EMM you will never stop again. If you do any kind of business but if you use clientless EMM with business, then you can make your business much more secure.
Issue with EMM Client apps (on-device applications)
EMM is typically a deployment of a combination of on-device applications and configurations, corporate policies and certificates, and backend infrastructure (cloud service), for the purpose of simplifying and enhancing the IT management of end-user devices. The main issue with on-device applications is that these provider's apps installed on the device have full permissions and access to device resources which users do not have much control over. So, the user or the company using the MDM/EMM services has no idea whether the provider's on-device applications upload critical information from the devices to their server and this can be a huge security issue.
Benefits of Clientless EMM
By registering more than one device, you can keep complete control of the registered devices
Easily restrict features of device settings using NovaEMM
You can install your favorite app anytime without data leak fear
You can secure the device whenever you want, by resetting the device password from NovaEMM
If you wanted to remove an app or disable the app, which you don't want to use, you can very easily disable or uninstall the app from NovaEMM
With NovaEMM, whenever you want, you can reboot, or factory reset the device in just one click
You can make your device dashboard by selecting the option multi-app in NovaEMM
You can Install the app on your device by setting the manage config of any app from NovaEMM, which will also save your time
By adding more than one user, you can give the device to another user at any time
Enterprise Apps Security
For most use cases you don't need any enterprise apps on your device. But if you have business needs for enterprise apps, NovaEMM also provides custom enterprise apps for your needs. Tabnova's enterprise apps are managed through Managed app configuration (commonly called managed configurations is a feature that gives IT admins the flexibility to remotely configure work apps for different users). So Tabnova's enterprise apps are not connected to any cloud, but all data is managed through a secure Android-managed configurations framework.
From my overall experience, the use of NovaEMM nowadays has proved to be very effective and helpful for every field. Till now I have used EMM dashboards from many different companies. But after using the TABNOVA EMM dashboard, I realized that the TABNOVA EMM dashboard has all the features and is quite easy to use too. All Features of EMM are very nice, modern, and easy to understand. It has been saved over time and has proved to be helpful in doing any business. One of the big advantages of TABNOVA EMM is clientless. So, all the information of the device remains safe with the user. So, the user can control the device from the dashboard whenever he wants from anywhere in the world. And the best offer of TABNOVA EMM is, up to 2 devices it is completely free to use.
So, if you like to try, just register for Free -
https://b2b.novaemm.com/register
YouTube —
https://www.youtube.com/.../UCKFeJifaf0vwJcsRZKXjzaw/videos
If you need help, please contact:
service@novaemm.com
contact@tabnova.com

No credit card is needed. What are you waiting for? Just try it and make your business secure.
If you are using EMM/MDM, you should opt for a client-less EMM and extreme care about on-device applications comes with it. You could select NovaEMM which is a clientless Enterprise Mobility Management service with 100% data security. Its cloud service (backend infrastructure) is simple and modern, easy to use UI. Lots of online help and videos for each use case, also you can get an online demo.