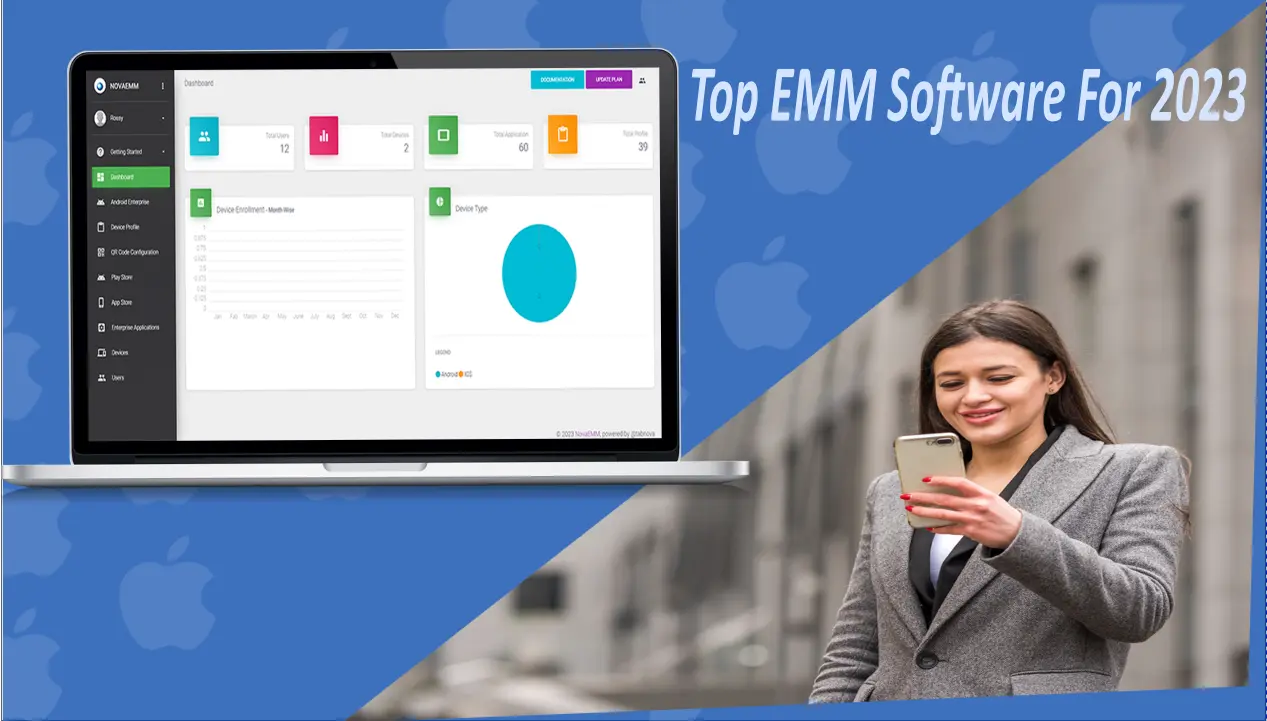 The Top Enterprise Mobility Management Solution for 2023
Enterprise mobility management is an integral cog in a business machine. A company with a large fleet of mobile devices under its workforce would need a system to keep these devices in check. Especially when a corporate handles BYOD.
Enterprise mobile device management is the best bet to do that. It allows corporates to control, manage, and monitor the mobile devices under them and evaluate employee mobile behavior efficiently. However, when it comes to choosing the best enterprise mobility management solutions, it can be confusing.
EMM solutions are an evolving set of technologies that carry varied features depending upon the requirement of a business. So how can you choose the best enterprise mobility management (EMM) software for your business?
That's not too difficult if you know your company's requirements and what type of EMM solutions suits you best. For instance, one of the market's best enterprise mobility management solutions is Tabnova's NovaEMM.
NovaEMM
Tabnova's NovaEMM houses a suite of features and administrative control, including the ability to centrally and remotely control mobile devices in workplaces under corporate mobility guidelines. In addition, this enterprise mobility management system brings in elements like application management, enrolment, security, remote monitoring, etc.
Let's take a brief look into these features:
Application Management: With NovaEMM, the company can control how the end user uses applications. They can decide which applications should be downloaded from the Play Store and which applications are to be blacklisted from being downloaded. Moreover, the enterprise mobile device management system has the ability to access corporate networks and interact with them. With such a system in tow, the company can even set auto-update policies and choose which software version should play on the corporate devices.
Enrolment: NovaEMM makes it easy to deploy any software or application onto corporate-owned devices. Android Enterprise enrolment and KNOX mobile enrolment are quite easily done, along with clientless enrolment using QR codes.
Security: There is comprehensive security for devices through various features, like password enforcers. The fleet of mobile devices can be controlled to determine which applications need to be given access. Moreover, suppose any device is stolen or lost or missing. In that case, the administrator can impose a lockdown on that specific device and ensure that the data within the device is not lost or stolen in any manner.
Remote Monitoring: With Tabnova's suite of EMM, the administrator can screen share any data that is needed onto the fleet of mobile devices under them. Additionally, the admin can set up alerts as well as a messaging system that will deliver any information or data required to the fleet of devices under the company policy.
Compliance: Tabnova's EMM system ticks off all the regulatory standards and is GDPR compliant. Data protection agreements are set in place to prevent any data theft or unauthorised use of information. When following the GDPR regulations, there are a few protocols in place:
Enforcing Passcode requirements
Data encryption on a device
Deploy and Enforce settings and restrictions
Separate work and personal space on a device
Wipe sensitive information
Blacklist applications
Generate reports for data security
Factory reset stolen devices
Benefits of NovaEMM
When you start using NovaEMM, you are treated to a host of benefits, from affordability to robust security. Let's look at what advantages a company can reap from using NovaEMM.
Multiple Kiosk Options: You can set up any type of desired Kiosk, like a Single App Kiosk, Browser Kiosk, Dashboard Kiosk, and Video Looper Kiosk.
Multiplatform Support: NovaEMM is capable of efficiently functioning on any platform, be it Android, MacOS, iOS, Windows, etc.
Enterprise Apps: You are able to access a suite of enterprise apps that comes with NovaEMM. These apps can be deployed according to company requirements as and when required.
DRM Content Delivery: Any online content, be it audio or video, that is used for live streaming can be encrypted, and DRM protected to prevent piracy and unauthorised use. With NovaEMM, businesses can manage and protect their mobile devices without any hassles while enhancing their employee productivity, which is also affordable. While Tabnova is a leading provider of EMM software, there are other peers in the market as well.
Some of the other best enterprise mobility management (EMM) software that is available include the following - Codeproof, Amtel, Filewave, IBM, Microsoft EMM, Manage Engine, SOTI, Ivanti, VMware AirWatch, Miradore, Sophos, Scalefusion.