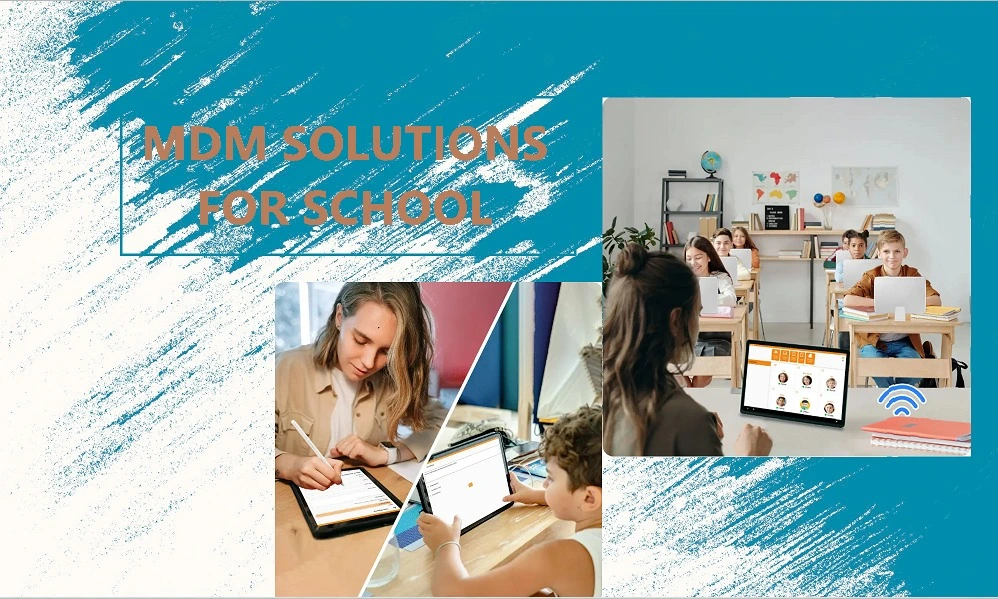 𝐌𝐃𝐌 𝐬𝐨𝐥𝐮𝐭𝐢𝐨𝐧𝐬 𝐟𝐨𝐫 𝐒𝐜𝐡𝐨𝐨𝐥𝐬 𝐚𝐫𝐞 𝐄𝐧𝐡𝐚𝐧𝐜𝐢𝐧𝐠 𝐄𝐝𝐮𝐜𝐚𝐭𝐢𝐨𝐧𝐚𝐥 𝐍𝐚𝐫𝐫𝐚𝐭𝐢𝐯𝐞
There is a marked shift in the education systems world over, which is natural as our involvement with technology and its applications would be snared to further the school curriculum. However, the employment of digital devices in schools is a hot topic of debate, with a small section against its uses. But the majority of the schools opt to reinforce their curriculum with the use of technology as a teaching tool.
𝐌𝐨𝐛𝐢𝐥𝐞 𝐝𝐞𝐯𝐢𝐜𝐞 𝐦𝐚𝐧𝐚𝐠𝐞𝐦𝐞𝐧𝐭 𝐟𝐨𝐫 𝐬𝐜𝐡𝐨𝐨𝐥𝐬 is considered an imperative solution for lording over various smartphones, laptops, or other connected devices. Choosing the 𝐛𝐞𝐬𝐭 𝐌𝐃𝐌 𝐬𝐨𝐥𝐮𝐭𝐢𝐨𝐧𝐬 that ensure there is no interference and distractions for the students while using them is another task that educators have to be careful about.
Let's look at what MDM is and how it works.
𝐖𝐡𝐚𝐭 𝐢𝐬 𝐌𝐨𝐛𝐢𝐥𝐞 𝐃𝐞𝐯𝐢𝐜𝐞 𝐌𝐚𝐧𝐚𝐠𝐞𝐦𝐞𝐧𝐭 𝐒𝐨𝐥𝐮𝐭𝐢𝐨𝐧?
MDM solutions help enhance an institution's data security through tracking, monitoring, managing, and securing devices connected to the same extensive network, like phones, tablets, laptops, etc. 𝐌𝐃𝐌 𝐬𝐨𝐥𝐮𝐭𝐢𝐨𝐧𝐬 𝐟𝐨𝐫 𝐞𝐝𝐮𝐜𝐚𝐭𝐢𝐨𝐧 employ client-server architecture. The devices represent the clients, while the MDM server will push out apps, configurations, and policies remotely.
Tabnova's classroom management app is a leading 𝐦𝐨𝐛𝐢𝐥𝐞 𝐝𝐞𝐯𝐢𝐜𝐞 𝐦𝐚𝐧𝐚𝐠𝐞𝐦𝐞𝐧𝐭 𝐬𝐨𝐥𝐮𝐭𝐢𝐨𝐧 for schools. Classroom management app is a comprehensive end-to-end multi-platform solution for schools, where the educator and the student can interact both from home or in a classroom.
Because of its feature that offers an online and offline mode of operation, the entire school curriculum can be readily available on this platform. With the inbuilt video conferencing functionality, the interaction between students and teachers is made easier. Moreover, the teacher has complete control over the devices the students use.
𝐖𝐡𝐚𝐭 𝐚𝐫𝐞 𝐭𝐡𝐞 𝐊𝐞𝐲 𝐁𝐞𝐧𝐞𝐟𝐢𝐭𝐬 𝐨𝐟 𝐔𝐬𝐢𝐧𝐠 𝐌𝐃𝐌?
The new generation of kids is habituated to digital devices. They have become familiarised with smartphones and tablets even before they reach school. Because of such proximity to digital technology, it is easier for them to get acclimatised and have a positive attitude towards digital learning tools at school.
Let's take a quick look at what significant advantages 𝐌𝐃𝐌 𝐬𝐨𝐥𝐮𝐭𝐢𝐨𝐧𝐬 𝐟𝐨𝐫 𝐞𝐝𝐮𝐜𝐚𝐭𝐢𝐨𝐧 present.
Students gain an immersive learning experience.
They have distraction-free learning.
Block students from accessing inappropriate content online.
Increased cybersecurity reduces the intensity and quantity of potential malware and network attacks.
Seamless remote learning can be an excellent asset for distance education capabilities.
Enhances classroom communication between tutors and students, forging a more robust educative interface.
The ability to troubleshoot errors on devices remotely and at a faster pace.
The pros of such a system are numerous when we look at Tabnova's classroom management app as an MDM 𝐬𝐨𝐥𝐮𝐭𝐢𝐨𝐧 𝐟𝐨𝐫 𝐬𝐜𝐡𝐨𝐨𝐥𝐬.
Faster and more secure video conferencing capabilities.
Enable screen sharing, which allows everyone connected to be on the same page.
The Hand Raise feature allows a student to gain the presenter's attention.
Share files in real-time securely and at a faster pace.
Ability to manage content, be it video or audio, or text content, in a secure way.
Students can work on assignments and submit them online without any hassles.
Create quizzes that the students can work on and submit online.
The addition of polls allows students and instructors to take stock of study material.
The multi-platform support enables it to be compatible with Android and iOS and have browser-based access from a desktop computer.
𝐂𝐥𝐚𝐬𝐬 𝐌𝐨𝐝𝐞
The Mobile Classroom Management application solutions for schools is available on iOS and Android. With its Class Mode, the application can be used to conduct a class in school after being set and configured for either the teacher or the student. Once configured, the device of the student can only be reconfigured to a teacher device after re-installation or through 𝐌𝐨𝐛𝐢𝐥𝐞 𝐃𝐞𝐯𝐢𝐜𝐞 𝐌𝐚𝐧𝐚𝐠𝐞𝐦𝐞𝐧𝐭 𝐟𝐨𝐫 𝐬𝐜𝐡𝐨𝐨𝐥𝐬.
To use the Class Mode, the student device and the teacher device must be connected to the same Wi-Fi. The teacher can share their screen, capture it, and send it to the student, share files and content, block any unsafe web URL from the student devices, use tools for notetaking, and monitor student activity on their devices.
𝐂𝐥𝐨𝐮𝐝 𝐌𝐨𝐝𝐞
The cloud mode of the Mobile Classroom Management application is only available on Android. With the Cloud Mode configuration, the student and the teacher need not be connected to the same network. They can be in different global locations and connected to different networks.
The teacher can create materials as part of the lesson, use audio, video, images, or documents, and share them with the student. They can also set up assignments, quizzes, and polls and do a video conference with their students quickly. We can block unsafe web URLs using the classroom web portal. This app is easy to operate and is the best among the available 𝐌𝐃𝐌 𝐟𝐨𝐫 𝐞𝐝𝐮𝐜𝐚𝐭𝐢𝐨𝐧.
In this modern age of technology, the importance of 𝐌𝐃𝐌 𝐬𝐨𝐥𝐮𝐭𝐢𝐨𝐧𝐬 𝐟𝐨𝐫 𝐬𝐜𝐡𝐨𝐨𝐥𝐬 is no small thing to overlook. With the best 𝐌𝐃𝐌 𝐟𝐨𝐫 𝐞𝐝𝐮𝐜𝐚𝐭𝐢𝐨𝐧, administrators can handle secure networks in schools, minimise classroom distractions, and enhance the quality of classroom education and distance learning. Moreover, the tutor-student relationship gains a robust understanding that improves communication and collaboration, which creates positive reinforcement in the student.
For more info -
https://www.tabnova.com/education
Contact Us:
service@novaemm.com
contact@tabnova.com