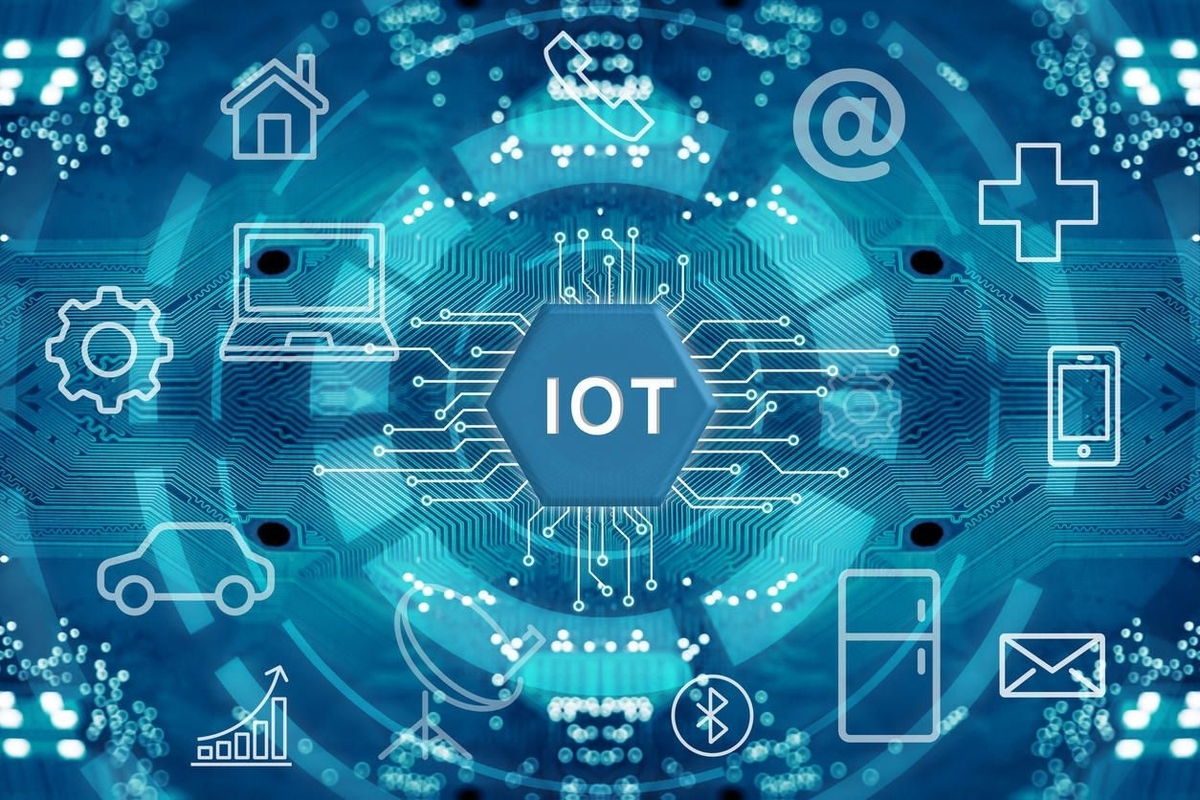 𝐈𝐨𝐓 - 𝐖𝐡𝐚𝐭 𝐢𝐭 𝐌𝐞𝐚𝐧𝐬 & 𝐖𝐡𝐞𝐫𝐞 𝐈𝐭 𝐂𝐨𝐦𝐞𝐬 𝐢𝐧𝐭𝐨 𝐏𝐥𝐚𝐲
You would have probably heard the term 'IoT' being thrown around the tech space and wondered what it was each time. Well, IoT simply means 'Internet-of-Things', and is the concept where physical objects are connected to the internet that allows them to be monitored or controlled remotely. This is done to obtain information and develop insights that help enhance business or personal outcomes.
The IoT is used in a wide variety of ways in different applications and scenarios around the world. Many industries like hospitality, healthcare, education, retail industry, etc. make use of IoT to monitor, develop and control their productive outcomes.
𝐖𝐡𝐲 𝐢𝐬 𝐢𝐭 𝐬𝐨 𝐢𝐦𝐩𝐨𝐫𝐭𝐚𝐧𝐭, 𝐭𝐡𝐨𝐮𝐠𝐡?
Firstly, over the past few years, IoT, as a technology, has had a massive impact on different areas of our personal and professional life. You can connect simple, everyday appliances like a thermostat or a baby monitor to the internet with the help of an embedded device, which in turn facilitates seamless communication and exchange of data.
The use of IoT greatly minimizes the cost of computing, as the cloud, analytics, and mobile technologies that collect and share data are more affordable and function with minimal human contact. The systems around us are smart enough to monitor, record, and control the interaction between any connected objects, without any massive breaks or flaws in communication.
Because IoT automates processes, it also minimizes wastage and enhances service delivery by quite a margin. This reduces labour costs and also reduces the cost of manufacturing goods, all the while providing complete transparency in customer dealings.
𝐓𝐞𝐜𝐡𝐧𝐨𝐥𝐨𝐠𝐢𝐞𝐬 𝐓𝐡𝐚𝐭 𝐌𝐚𝐤𝐞 𝐈𝐨𝐓 𝐏𝐨𝐬𝐬𝐢𝐛𝐥𝐞
The concept of IoT has been floating around for quite a long time, but it was the advent of some truly innovative technological advancements that have made that concept practical. Let's take a look at some of those.
Affordable & low-power sensors that are also highly reliable and efficient.
Wide network connectivity that allows a host of internet protocols to connect such sensors to the cloud and other devices for seamless data communication & transfer.
Increased number of cloud computing platforms that are also easily available, thus making businesses and individuals access information easily, efficiently, and remotely.
Advanced machine learning and analytics that help businesses and individuals alike to gather vast amounts of data.
The rapid advancements in AI that allows neural networks to process conversational procedures and bring NLP (natural language processing) to IoT devices, making them viable for a wider range of use while keeping them affordable.
𝐖𝐡𝐚𝐭 𝐢𝐬 𝐄𝐝𝐠𝐞 𝐂𝐨𝐦𝐩𝐮𝐭𝐢𝐧𝐠 𝐢𝐧 𝐈𝐨𝐓?
Edge computing in the Internet of Things happens at or near the physical location of the data source or the data user. The edge in the IoT is where all sensors and devices transmit the data to a network in real time.
Now, one shouldn't confuse an edge device and an IoT device. An IoT device is an object that is connected to the internet and serves as the source of data, while the edge device collects and processes the said data.
When you place computing services closer to such locations, then the users are able to get faster, reliable services. Moreover, businesses are able to employ latency-sensitive applications, identify trends, and deliver higher-quality services and products.
Through edge computing, companies can scale their centralized infrastructure by making use of an array of resources that are distributed across any number of locations. This helps them to comply with the requirements of the many devices and data that are utilized, thus providing a stronger and smoother end-user experience.
𝐀𝐩𝐩𝐥𝐢𝐜𝐚𝐭𝐢𝐨𝐧𝐬 𝐨𝐟 𝐈𝐨𝐓
IoT is being applied in multiple industries due to the fact that it can be adapted and adjusted to most technologies that provide significant information about an activity's performance, operational data, control and monitor environmental conditions of an operation, etc. It can simplify, automate, improve, and control different processes as and when required.
One of the frequently used applications of IoT is in cold chain processes. Such processes are used extensively in healthcare, agriculture, frozen food processing, seafood transportation, etc. where the products need to be stored and transported at the desired temperature to preserve their shelf life.
The quality of the cold chain process needs to be monitored, controlled, measured, documented, and validated through software-based technology. This increases transparency, improves efficiency and reduces unnecessary wastage of products.
Tabnova platform provides the best in class and affordable, software-based cold chain solutions for transportation and logistics.
Let's take a look at how that works.
Each vehicle in the fleet will be installed with a mobile device and multiple IoT sensors that will all be managed by Tabnova EMM. All of these sensors will be using wireless Bluetooth LE to transmit data. Additionally, the Tabnova tracking suite will allow the company or individual to monitor the live tracking of these vehicles.
The configuration of these applications and the device settings are all done remotely. In the majority of cases, the devices in use are set in kiosk mode to enable the user of the device to have access to the approved applications.
The multiple IoT sensor devices that are positioned in the vehicle can be configured to send data to the mobile device, which will then be transmitted live along with the GPS and timestamp to the Tabnova cloud. Since the mobile devices are locked down, only the configured sensors will be able to transmit the data to the Tabnova cloud. This will ensure the complete security of the data, preventing any outside manipulation.
𝐅𝐞𝐚𝐭𝐮𝐫𝐞𝐬 𝐨𝐟 𝐓𝐚𝐛𝐧𝐨𝐯𝐚 𝐈𝐨𝐓 𝐟𝐨𝐫 𝐓𝐫𝐚𝐧𝐬𝐩𝐨𝐫𝐭𝐚𝐭𝐢𝐨𝐧 & 𝐋𝐨𝐠𝐢𝐬𝐭𝐢𝐜𝐬: -
Dashboard to display the live data of temperature, pressure, and humidity
Historical data can be retrieved and exported to excel files
Alerts can be configured based on thresholds
GPS and time stamps are provided with each data point
Automatic email alert can be configured
Multiple sensors can be configured in a single vehicle
Setting up Tabnova IoT for a transportation company is extremely easy. All you need is an active Tabnova cloud subscription and IoT devices for your fleet of vehicles, and you are good to go. Tabnova will provide you with comprehensive support for device provisioning that will help you set up your robust cold chain solutions. Moreover, with Tabnova's enterprise app suite, you can improve your business efficiency affordably.
contact@tabnova.com
service@novaemm.com