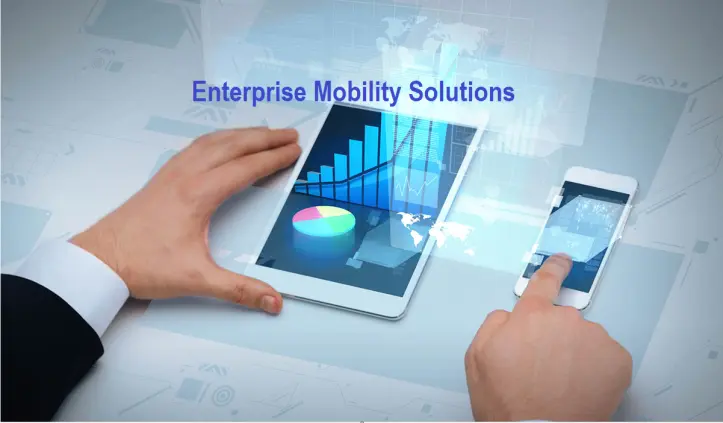 How Enterprise Mobility Solutions Are Benefiting Corporate Businesses
Enterprise mobility as a term took root when enterprises began to follow the approach of remote working, whereby their employees could function using their own mobile devices remotely, from any location at any time. This approach has been gaining traction over the past few years and more so now in the post-pandemic era.
The flexibility of this functioning method brings higher productivity and efficiency to the business, so much so that many organisations have developed a robust mobility strategy for their workforce. Statistically, there are close to 4 billion smartphone users worldwide, which necessitates the need for a mobility solution for businesses to streamline their operations to maximise revenue-generating output.
Enterprise mobility solutions have carved a niche amongst global businesses that follow a remote work model, furthering its benefits and evolving with global requirements. It is essential for companies to first learn of the different benefits of EMM solutions before investing their money, resources, and time in them.
Enterprise mobility solutions help a company to operate their mobile workforce remotely and securely, while simultaneously helping the administrators to control, monitor and manage the different mobile devices operating under the company policy. EMM Solutions use varied programs and enterprise apps that play a significant role in the growth of the company.
Benefits of EMM Solutions
Any organisation that you name would be having their prime focus on increasing customer engagement for successful growth. Enterprise mobility helps them to stimulate this growth through the efficient use of technology.
Let's take a look at some of the key benefits of implementing enterprise mobility solutions into your business.
Efficient Data Collection
Data is the most important asset of any corporate business. Securely collecting data, their storage, and transmission are crucial to the company's growth. Mobility solutions help a company to efficiently collect this data through the different touchpoints of mobile enterprise apps, enabling you to manage large amounts of data without any hassles.
Higher Employee Productivity
EMM solutions provide the workforce with the flexibility needed to thrive in a corporate environment. Employees are able to work remotely and securely deal with corporate data without jeopardizing any business processes. Moreover, EMM solutions allow employees to access crucial information without any hassles.
Increased Customer Satisfaction
Clients are provided with higher levels of customization, increased speed, and agility, thus enhancing their user experience. With effective product tracking and delivery through mobility solutions, the company is assured of quicker payment confirmations and well-rounded client assistance, thus increasing customer engagement and loyalty.
Minimised Cost of Operations
EMM solutions provide faster and more secure access to data through a streamlined single operating platform, thus improving efficiency in real time. Thus, employees needn't waste time waiting for data inflow. This helps the company save valuable time and money through reduced resource usage.
Higher Levels of Employee Collaboration
When there are multiple resources flowing on the same project, then employees would need to be in constant communication with each other. This allows them to remain updated about each other's status and collaborate in real time. This is especially useful when the employees are placed in different locations, under different time zones, or are traveling.
Higher Data Security
Data security is of paramount importance to the growth of a business. As such, it is one of the main components of enterprise mobility solutions. EMM systems provide strong data security and effective risk management techniques, like mobile device management (MDM). Mobile application management (MAM), and identity and access management (IAM). These levels of security allow companies to shield their data from unwanted and unauthorised access to their devices, preventing malicious attacks from both outside and inside the company.
Uninterrupted Data Sharing
There are third-party applications that allow enterprises to share their data quickly. However, the risk that comes with integrating such applications is often on the higher side. Companies might not be able to control the data being shared and is always at risk of losing valuable assets. With enterprise mobility solutions, this risk is extremely minimized.
Integrating a robust enterprise mobility solution into your business will help you to expand and grow, increase your customer experience, and enhance financial returns. As remote working is steadfastly becoming the new norm, EMM has become an integral part of businesses.
Tabnova EMM solution designed for enterprises. Tabnova's EMM solution offers features such as device enrollment, security management, app distribution, and device inventory management, among others.
The solution aims to help organizations securely manage and secure their mobile devices and apps, ensuring that sensitive data and corporate resources are protected. Tabnova's EMM solution is designed to work with a range of devices and platforms, including iOS, Android, and Windows.
Whether Tabnova EMM solution is the right solution for a particular organization depends on various factors, including the size of the enterprise's specific requirements, the types of devices being used, the level of security required, and budget constraints, among others. It is recommended that organizations carefully evaluate all available options and choose the one that best meets their specific needs.
For more info click on the below link:-
https://www.tabnova.com/enterprise-mobility-management
Contact Us:-
contact@tabnova.com
service@novaemm.com