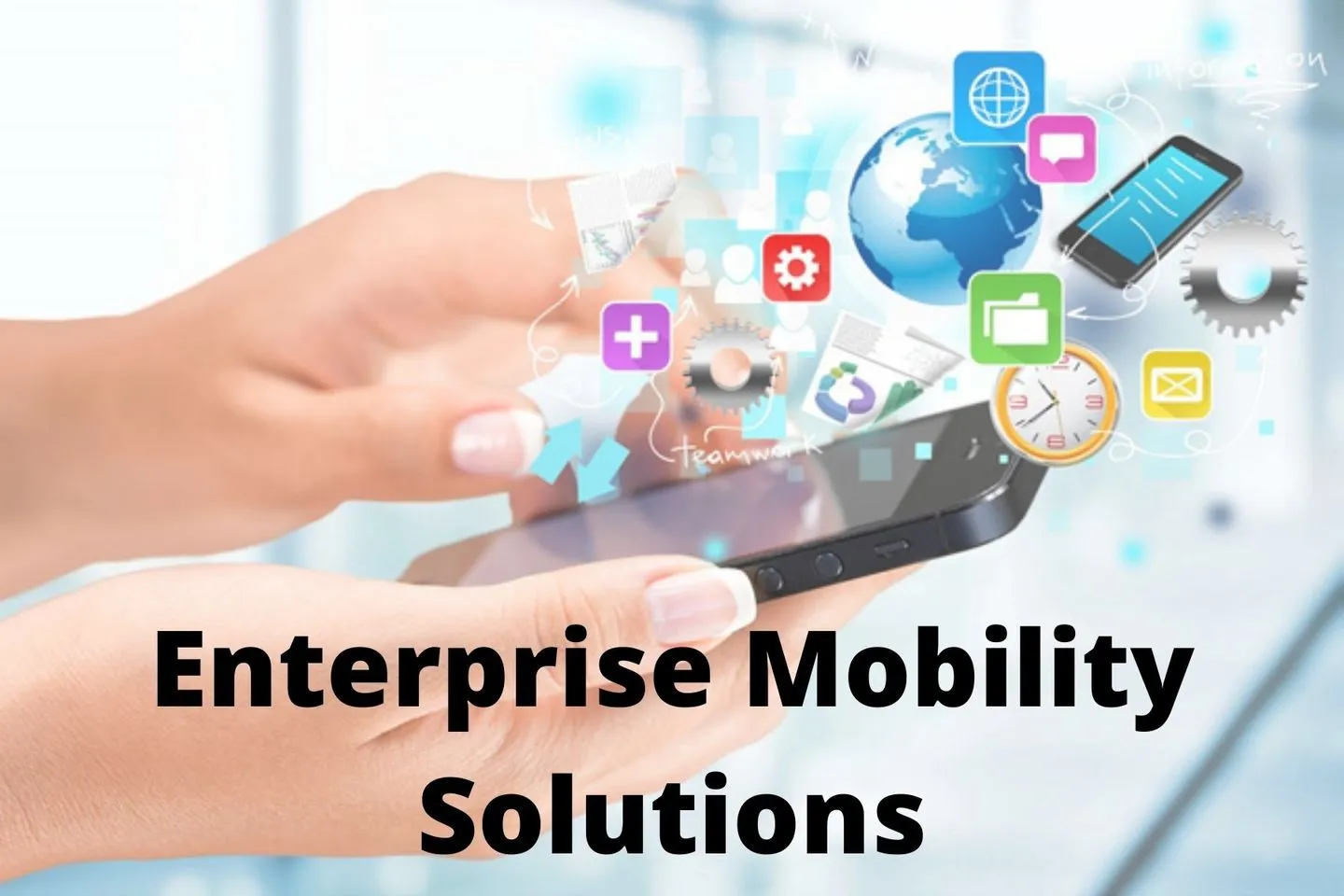 How EMM Solutions Efficiently Manage Your Mobile Devices?
Enterprise Mobility Management is rapidly gaining traction with global organisations that are adopting mobility policies and strategies. Mobile devices and technology have become ubiquitous in the workplace, as businesses are moving towards a flexible work environment.
The remote workforce is growing in numbers and the need to formalize the approach of enterprise mobile device management software is the need of the hour. One of the main reasons that are driving the demand for effective EMM solutions is the increasing BYOD (Bring Your Own Device) amongst employees.
BYOD allows employees to bring their own devices and work from those devices. While this may sound advantageous to the employees, wherein they get the freedom and flexibility to work comfortably on a known device, it also raises some concerns for the company.
Any device that an employee owns and brings into the organisation is not under the company's direct control and hence can be exposed to external risks. When devices are outside the control of the company's IT department, then it reduces security and may cause compliance issues, which leads to difficulties in managing these devices in the company.
This is where robust enterprise mobile device management can help an organisation navigate such challenges efficiently. Let's take a look at how enterprise mobility management strategies can help companies be productive.
Evolution of Mobile Management
Mobile device management (MDM), not so long ago, was aimed mainly at just the device. Through MDM, companies enforced their policies and control guidelines to streamline resources on the devices.
Even though MDM fulfilled quite a bit of mobile management requirements, many companies weren't completely satisfied with it. The range of policies, compliance features, and security aspects was viewed to be insufficient for a corporate environment.
Companies were looking to set up a system that will provide comprehensive control over the devices connected to a network and manage the content and applications that are used by the employees. This will ensure they get to protect their sensitive data and prevent any unwanted external interference.
Moreover, moving on from a device-centered policy allows the organisation to safeguard the devices from unauthorised access. These needs prompted businesses to seek out solutions like MCM (Mobile Content Management) and MAM (Mobile Application Management). Although they filled in the gaps that MDM left, they weren't comprehensive enough to bring in a uniform management system.
Therefore, companies were in need of a solution that merged all features of MDM, MCM, and MAM, and delivered strong analytical outputs on their data. This need was satisfied with enterprise mobility management, which not only had all these features but also acted as a tool to shape up the enterprise mobility strategies of businesses.
What Are the Main Features of EMM Solutions?
Enterprise Mobility Management Solution has all the features that are present in MDM, MAM, and MCM combined, along with enhanced security and compliance. All these coming under one platform is highly beneficial for businesses, for they then only have to deal with a single management interface.
Additionally, Enterprise Mobility Management platforms provide mobility management tools that allow business owners to manage their entire workplace. Since there is a host of the mobile platform in the market today with their own distinct applications, it is imperative that businesses be able to handle a solution that is agnostic of the various platforms. This helps companies to enhance their productivity, while also enabling them to develop applications of different verticals that are industry-specific.
The best Enterprise Mobility Management solutions that a company can employ will provide all the features required for efficient mobile deployment, as well as provide expansive control over the device, content, and applications.
𝐃𝐞𝐯𝐢𝐜𝐞 𝐂𝐨𝐧𝐭𝐫𝐨𝐥


– An efficient enterprise mobility management solution will provide companies control over which devices should connect to the company's secure network depending upon their security protocols. Moreover, it will have complete compatibility with different mobile platforms and operating systems.

𝐀𝐩𝐩𝐥𝐢𝐜𝐚𝐭𝐢𝐨𝐧 𝐌𝐚𝐧𝐚𝐠𝐞𝐦𝐞𝐧𝐭


– EMM solutions help companies compartmentalize their applications, allowing employees to download and use only company-approved programs. This also allows businesses to manage and control the applications on their mobile devices, enabling them to edit or delete any app that may violate company policies.

𝐀𝐝𝐦𝐢𝐧𝐢𝐬𝐭𝐫𝐚𝐭𝐢𝐨𝐧 𝐌𝐚𝐧𝐚𝐠𝐞𝐦𝐞𝐧𝐭 & 𝐔𝐬𝐞𝐫 𝐌𝐚𝐧𝐚𝐠𝐞𝐦𝐞𝐧𝐭
– An efficient enterprise mobility management solution can smoothen the user's sign-in process by facilitating a single sign-in through their personal device to access the different apps and data. Each user ID is verified and connected to the corporate directories that are either in the cloud or set on-premises to limit data leakage. Moreover, this system will save user activity to create reports and audit logs. Additionally, enterprise Mobile Device Management systems have a single interface for management, making it easier to track the reporting and analytics, monitor the implementation of company policy, and perform maintenance procedures.
𝐌𝐨𝐧𝐢𝐭𝐨𝐫𝐢𝐧𝐠 & 𝐂𝐨𝐧𝐭𝐫𝐨𝐥𝐥𝐢𝐧𝐠 𝐌𝐨𝐛𝐢𝐥𝐞 𝐄𝐜𝐨𝐬𝐲𝐬𝐭𝐞𝐦𝐬
– Businesses can, with the help of enterprise Mobile Device Management, control every aspect of the mobile ecosystems that are in use for work. They can monitor every mobile device and decide on the connectivity permissions for both devices and applications. This comprehensive control allows businesses to prevent any risk that may pop up.
Most organisations have set up internal policies to prevent potential security risks, therefore mobile devices within the workspace have limited access to the company's connected network. With a robust Enterprise Mobility Management system in tow, the company's IT department can securely automate small tasks like VPN or Wi-Fi configuration, saving time and effort. Moreover, with a single platform of operation, businesses have better visibility over their mobile devices.
𝐒𝐭𝐫𝐨𝐧𝐠 𝐒𝐞𝐜𝐮𝐫𝐢𝐭𝐲 𝐟𝐨𝐫 𝐁𝐘𝐎𝐃 𝐏𝐫𝐨𝐠𝐫𝐚𝐦𝐬
As mentioned at the beginning of this article, BYOD can be an integral part of business, but it can pose a threat to the internal security of the company, which can result in huge financial losses. Utilizing the best Enterprise Mobility Management solutions in the market, an organisation can configure a central device to collate all the BYOD resources, thus bridging them all together under one control.
Another advantage here is that EMM solutions offer enhanced features like secure communication channels with VPNs, containment and categorization of personal and work apps, and the ability to delete any sensitive information from a compromised mobile device remotely. All these functions save time and money in the long run, thus benefiting the productivity of the company immensely.
𝐒𝐦𝐨𝐨𝐭𝐡 𝐖𝐨𝐫𝐤𝐟𝐥𝐨𝐰
EMM provides a central dashboard from which you can install any custom apps from the enterprise app store of the company. From this dashboard, the admin can grant access to users for approval and control them and the OS they use.
Additionally, the dashboard can be linked externally to important documents, enabling the creation of a seamless workflow, and labelling everyone's tasks and responsibilities. This allows the company to optimise the data and decide whether the employees should be allowed to access sensitive information or not.
𝐄𝐧𝐭𝐞𝐫𝐩𝐫𝐢𝐬𝐞 𝐑𝐞𝐬𝐨𝐮𝐫𝐜𝐞 𝐏𝐥𝐚𝐧𝐧𝐢𝐧𝐠 𝐒𝐲𝐬𝐭𝐞𝐦𝐬
An ERP system allows businesses to manage their data in an easy way. They are able to synchronize critical information and bridge it between the various departments and modules. With 𝐄𝐧𝐭𝐞𝐫𝐩𝐫𝐢𝐬𝐞 M𝐨𝐛𝐢𝐥𝐢𝐭𝐲 M𝐚𝐧𝐚𝐠𝐞𝐦𝐞𝐧𝐭, this process is improved by allowing employees to have similar functionality without forcing them to follow a legacy system.
When 𝐄𝐌𝐌 𝐬𝐨𝐥𝐮𝐭𝐢𝐨𝐧𝐬 are integrated with an ERP platform, it will help enhance the productivity of the organisation. One such case of integration is when a custom enterprise application is synchronized to the data delivered from the ERP software. This enables those in control to gain real-time details about the data levels, and take appropriate actions.
In this modern age, where an organisation personnel owns two or more mobile devices, it can get cumbersome for the company to keep tabs on the vast number of devices brought in.
Getting the 𝐛𝐞𝐬𝐭 E𝐧𝐭𝐞𝐫𝐩𝐫𝐢𝐬𝐞 M𝐨𝐛𝐢𝐥𝐢𝐭𝐲 M𝐚𝐧𝐚𝐠𝐞𝐦𝐞𝐧𝐭 solutions in the market will provide all that's needed for your mobile management requirements. It will help control costs, deliver smooth workflow, and allow robust security for your data, enabling you to gain an edge over your competitors as well.
For more info -
https://www.tabnova.com/enterprise-mobility-management
Contact Us: