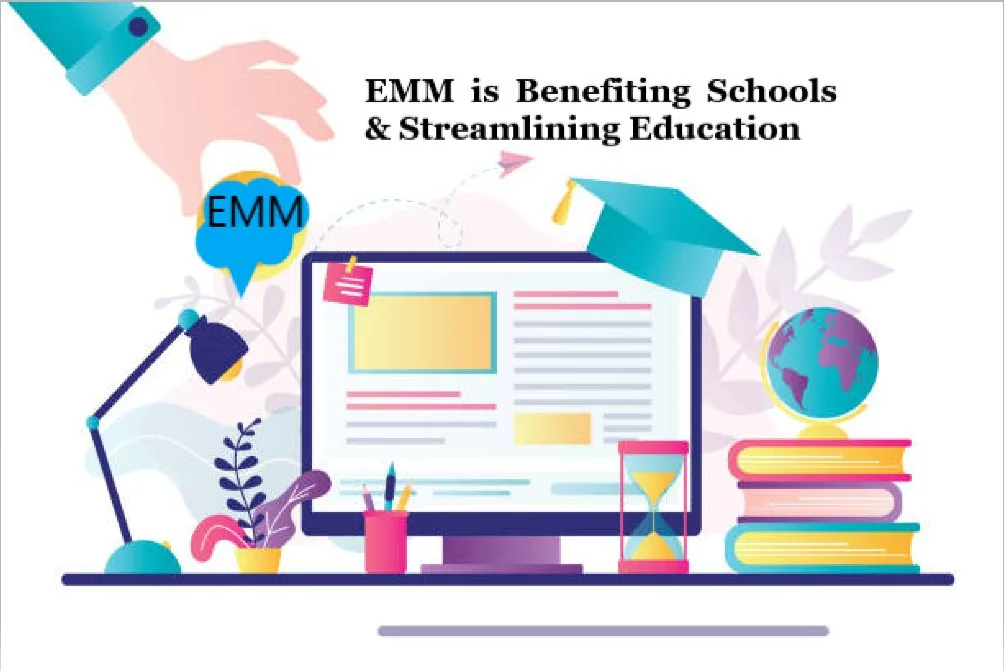 𝐄𝐧𝐭𝐞𝐫𝐩𝐫𝐢𝐬𝐞 𝐌𝐨𝐛𝐢𝐥𝐢𝐭𝐲: 𝐇𝐨𝐰 𝐄𝐌𝐌 𝐢𝐬 𝐁𝐞𝐧𝐞𝐟𝐢𝐭𝐢𝐧𝐠 𝐒𝐜𝐡𝐨𝐨𝐥𝐬 & 𝐒𝐭𝐫𝐞𝐚𝐦𝐥𝐢𝐧𝐢𝐧𝐠 𝐄𝐝𝐮𝐜𝐚𝐭𝐢𝐨𝐧
The contribution of 𝐞𝐧𝐭𝐞𝐫𝐩𝐫𝐢𝐬𝐞 𝐦𝐨𝐛𝐢𝐥𝐢𝐭𝐲 𝐦𝐚𝐧𝐚𝐠𝐞𝐦𝐞𝐧𝐭 𝐬𝐨𝐥𝐮𝐭𝐢𝐨𝐧𝐬 in the education sector has resulted in making it more streamlined, enhancing the gains and raising the bar of interaction between the users. Both students and teachers find 𝐄𝐌𝐌 𝐬𝐨𝐥𝐮𝐭𝐢𝐨𝐧𝐬 highly convenient in the academic environment.
Digital devices have bridged a previously invisible gap between students and tutors, and improved education standards by a huge margin. Mobile devices like laptops & tablets, mobile applications, wireless networks, etc. have helped students to easily access knowledge while interacting closely with their teachers.
So, how do 𝐞𝐧𝐭𝐞𝐫𝐩𝐫𝐢𝐬𝐞 𝐦𝐨𝐛𝐢𝐥𝐢𝐭𝐲 𝐦𝐚𝐧𝐚𝐠𝐞𝐦𝐞𝐧𝐭 𝐬𝐨𝐥𝐮𝐭𝐢𝐨𝐧𝐬 navigate the educational terrain effortlessly? Let's take a look.
𝐖𝐡𝐲 𝐄𝐦𝐩𝐥𝐨𝐲 𝐄𝐌𝐌 𝐒𝐨𝐥𝐮𝐭𝐢𝐨𝐧𝐬 𝐟𝐨𝐫 𝐄𝐝𝐮𝐜𝐚𝐭𝐢𝐨𝐧?
Earlier, the prospect of studying outside the confines of a classroom was something not encouraged or thought of deeply. Education within the four walls was the norm.
However, with the pandemic, things have taken a turn, embracing novel concepts to expand and deliver knowledge outside concrete walls. With the best 𝐞𝐧𝐭𝐞𝐫𝐩𝐫𝐢𝐬𝐞 𝐦𝐨𝐛𝐢𝐥𝐢𝐭𝐲 𝐦𝐚𝐧𝐚𝐠𝐞𝐦𝐞𝐧𝐭 𝐬𝐨𝐥𝐮𝐭𝐢𝐨𝐧𝐬 in tow, teachers are able to reach out to students located anywhere in the world.
E𝐧𝐭𝐞𝐫𝐩𝐫𝐢𝐬𝐞 M𝐨𝐛𝐢𝐥𝐢𝐭𝐲 M𝐚𝐧𝐚𝐠𝐞𝐦𝐞𝐧𝐭 has brought quite a few things into the education sector:-
Transformative Technology: Mobile technology, in the form of laptops, tablets, smartphones, etc. has helped educational institutions to derive social CRM strategy and implement effective methods to enhance interactions with students.
Back-End Support: Enterprise mobile device management solutions provide a robust back-office system that helps educators give timely responses to students' requirements, through the implementation of ERP, data warehousing systems, etc.
Strong IT Infrastructure: These days we have efficient and reliable IT infrastructure, therefore, enterprise mobility management has completely remodelled the education sector, enhancing the learning experience, promoting quick decision-making skills, and laying down quality educative steps, all at an affordable and controllable cost of operations.
Content Publishing: When you have strong 𝐞𝐧𝐭𝐞𝐫𝐩𝐫𝐢𝐬𝐞 𝐦𝐨𝐛𝐢𝐥𝐢𝐭𝐲 𝐦𝐚𝐧𝐚𝐠𝐞𝐦𝐞𝐧𝐭 under your belt, then one of the benefits is its varied publishing modes. Institutions can make content available online for students, publish educational materials, and make materials readable online on mobile devices.
The weightage that EMM has in the education sector hasn't gone unnoticed by corporate giants. Quite a few mammoths of the IT sector, like Apple, Google, and Samsung to name a few, have chipped in with their noteworthy contributions, like mobile devices and education apps, to help students and teachers alike.
𝐖𝐡𝐚𝐭 𝐒𝐡𝐨𝐮𝐥𝐝 𝐎𝐧𝐞 𝐋𝐨𝐨𝐤 𝐟𝐨𝐫 𝐈𝐧 𝐄𝐧𝐭𝐞𝐫𝐩𝐫𝐢𝐬𝐞 𝐌𝐨𝐛𝐢𝐥𝐢𝐭𝐲 𝐌𝐚𝐧𝐚𝐠𝐞𝐦𝐞𝐧𝐭?
When institutions employ 𝐞𝐧𝐭𝐞𝐫𝐩𝐫𝐢𝐬𝐞 𝐦𝐨𝐛𝐢𝐥𝐞 𝐝𝐞𝐯𝐢𝐜𝐞 𝐦𝐚𝐧𝐚𝐠𝐞𝐦𝐞𝐧𝐭 solutions, they look for a few aspects.
Platform & OS Compatibility: For one-to-one programs, schools usually have one type of device to cater to their needs. But if the institutions allow students to use their own mobile devices, then they must be ready to have a program that supports different operating systems. Here, the 𝐄𝐌𝐌 𝐬𝐨𝐥𝐮𝐭𝐢𝐨𝐧 must be flexible enough to work on any platform and operating system.
Easy User Onboarding: Schools look for an EMM platform with an easy interface to use, and quickly detect any unmanaged devices.
Strong Security Measures: The usage of jailbroken devices and pirated OS or software versions is a real problem that institutions can face. Therefore, 𝐞𝐧𝐭𝐞𝐫𝐩𝐫𝐢𝐬𝐞 𝐦𝐨𝐛𝐢𝐥𝐞 𝐝𝐞𝐯𝐢𝐜𝐞 𝐦𝐚𝐧𝐚𝐠𝐞𝐦𝐞𝐧𝐭 should provide comprehensive control over the devices and applications that are served to the users.
Support for Applications: An efficient 𝐄𝐌𝐌 𝐬𝐨𝐥𝐮𝐭𝐢𝐨𝐧 will provide not only security but also expansive visibility into applications. Enterprise mobility management should support all types of applications and services that are used in the institution, and be able to integrate LDAP, varied administrative tools, and network management.
Management Interface: Having an easy-to-use management interface is important. It can provide a strong suite of tools for managing the different endpoints and monitoring the devices efficiently. The dashboard provides vital stats, like real-time alerts and performances of devices, and in-depth analytics.
As we have seen, 𝐄𝐌𝐌 𝐬𝐨𝐥𝐮𝐭𝐢𝐨𝐧 have proved their mettle, which is evident from the way the education sector has profited from their employment. It allows students and educators alike to make use of advanced devices and technology for learning purposes.
Tabnova is an experienced and leading service provider of the 𝐛𝐞𝐬𝐭 𝐞𝐧𝐭𝐞𝐫𝐩𝐫𝐢𝐬𝐞 𝐦𝐨𝐛𝐢𝐥𝐢𝐭𝐲 𝐦𝐚𝐧𝐚𝐠𝐞𝐦𝐞𝐧𝐭 𝐬𝐨𝐥𝐮𝐭𝐢𝐨𝐧𝐬. If you are looking for quality education apps that are agnostic of platforms and operating systems, then look no further than here.
Enterprise Mobility Management has become an essential asset for educational institutions to have. With Tabnova, you get the 𝐛𝐞𝐬𝐭 𝐞𝐧𝐭𝐞𝐫𝐩𝐫𝐢𝐬𝐞 𝐦𝐨𝐛𝐢𝐥𝐢𝐭𝐲 𝐦𝐚𝐧𝐚𝐠𝐞𝐦𝐞𝐧𝐭 𝐬𝐨𝐥𝐮𝐭𝐢𝐨𝐧𝐬 that will help institutions to utilize an intuitive cloud-based platform for managing any endpoints they may have, as well as control through a wide array of security tools.
For more info -
https://www.tabnova.com/enterprise-mobility-management
https://www.tabnova.com/mdm-for-education
Contact Us: