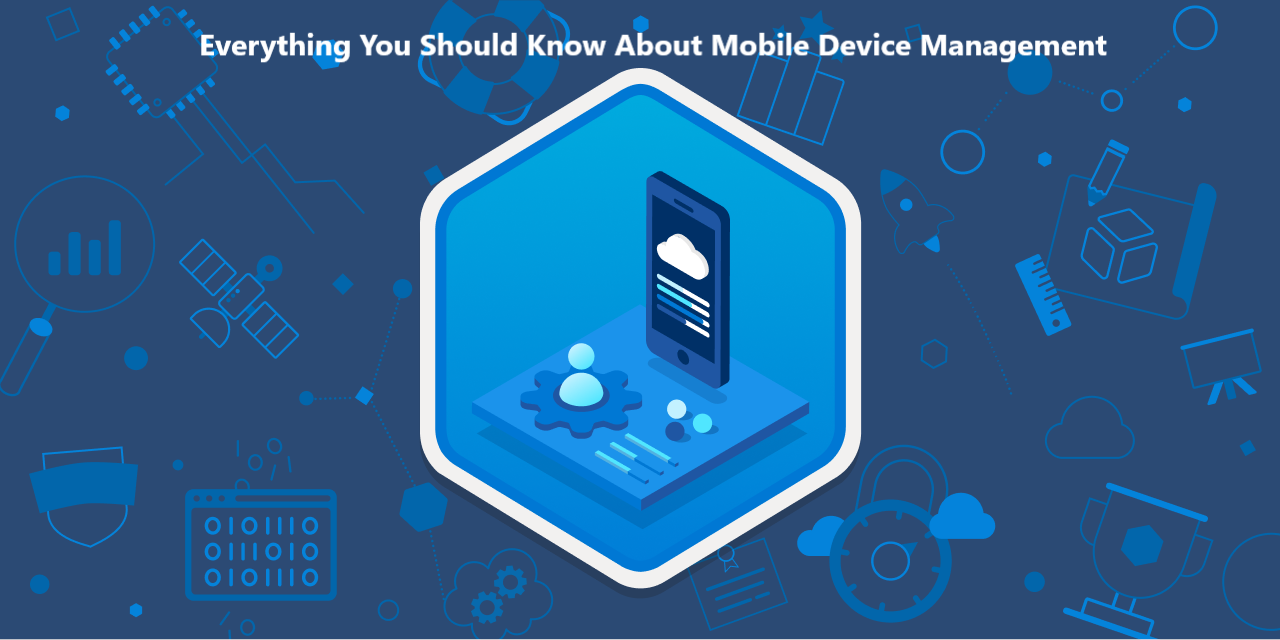 Everything You Should Know About Mobile Device Management
The proliferation of mobile devices in the modern workforce has rendered mobile device management (MDM) a crucial technology. Although its significance is widely acknowledged, MDM remains a mystery to many, leading to confusion and misconceptions. By adopting Tabnova MDM, you can mitigate security risks and inefficiencies while optimizing productivity and flexibility in your organization. Let this guide be your comprehensive resource for implementing MDM effectively.
Mobile Device Management (MDM) – Definition
Mobile device management software is a powerful tool that enables companies to remotely monitor, control and safeguard mobile devices and a diverse range of devices. With Tabnova mobile device management, users can track and manage all types of devices, much like a store manager supervises and corrects the actions of their staff. From desktops to laptops, tablets, and beyond, mobile device management technology can handle it all. In today's increasingly mobile workforce, MDM technology has become more vital than ever before. As mobile devices continue to play a central role in all types of professions, businesses require effective methods for managing, observing, and securing these devices. Tabnova mobile device management offers the solution businesses need to stay ahead in the ever-evolving technology landscape.
A Comparison of MDM, EMM, and UEM
As you begin your search for MDM solutions, you are bound to come across three terms that might seem perplexing at first: MDM, EMM, and UEM. It's important to note that each term has its own distinct meaning, and how they are used has evolved over time. However, with Tabnova's cutting-edge EMM and UEM tools, businesses can now streamline their device management processes like never before.
By going beyond MDM and incorporating enterprise mobility management (EMM) and unified endpoint management (UEM), Tabnova provides businesses with the ability to achieve enhanced efficiency and security when it comes to managing mobile devices. Gone are the days of merely relying on mobile device management; Tabnova's innovative solutions have paved the way for a more comprehensive approach to device management. With Tabnova, businesses can achieve enhanced efficiency and security, allowing them to stay ahead in today's fast-paced digital landscape.
MDM, EMM, and UEM
As we enter the age of remote work and flexible office environments, the need for effective mobile device management (MDM) solutions has never been greater. That's where Tabnova comes in. With their advanced MDM technology, Tabnova offers a comprehensive solution for businesses looking to monitor, control, and secure all mobile devices used in the workplace.
At the heart of Tabnova's offering is its cutting-edge unified endpoint management (UEM) system. This powerful tool allows IT teams to easily manage both company-owned and employee-owned devices, ensuring that critical data and device-based content are always secure and accessible. Whether it's a tablet, smartphone, or laptop, Tabnova's UEM system has got you covered.
But Tabnova doesn't stop at UEM. Their enterprise mobility management (EMM) solutions take things to the next level, providing system administrators with unparalleled access to critical data and device-based content. With these tools at their disposal, businesses can safeguard sensitive information and maintain optimal device performance, all while ensuring that their employees are able to work seamlessly and productively.
In short, if you're looking for a comprehensive, cutting-edge MDM solution for your business, Tabnova is a clear choice. With their advanced UEM and EMM technology, they offer unmatched functionality and security while making it easy for IT teams to manage mobile devices in a fast-paced, ever-changing work environment.
EMM (Enterprise Mobility Management): What Is It?
Tabnova's enterprise mobility management (EMM) solutions encompass the management of mobile devices, as well as the applications and content that they utilize. This comprehensive approach includes mobile application management (MAM), mobile device management (MDM), and mobile content management (MCM), allowing for seamless phone management capabilities for both employee-owned and company-owned phones. With Tabnova's cutting-edge EMM solutions, businesses can easily adapt to the ever-changing landscape of highly mobile workers, ensuring maximum productivity and security.
Unified Endpoint Management: What Is It?
Unified endpoint management, or UEM, is the comprehensive management of all business endpoints or devices, allowing for a single management framework. This revolutionary approach covers a wide range of devices, including mobile phones, laptops, IoT gadgets, and tablets, making it both more practical and effective than previous methods. The top MDM solutions can control almost every office device from a single console, and UEM is now the preferred industry benchmark, as evidenced by the Gartner Magic Quadrant for UEM Solutions. Always verify that any EMM or MDM solution you come across is, in fact, a UEM solution.
Mobile Device Management: Workflow
Tabnova's mobile device management workflow involves the deployment of essential endpoint software agents, which work in tandem with an MDM server that may be hosted locally or remotely in the cloud. The device management policies, which are established by IT personnel through the management console, are then disseminated to the mobile devices' MDM agents via the server, where they are implemented through the device's built-in APIs. Additionally, the MDM server can deploy applications to the devices in addition to the management policies.
How Does MDM Operate?
Tabnova MDM offers both on-site and cloud-based solutions to oversee an organization's mobile device usage throughout its entire lifecycle. This includes five critical stages, with enrollment being the first.
Enrollment:
Enrolling new devices is an essential part of unified device management. For instance, Android devices are typically easy to set up in business environments due to Android Enterprise and Zero Trust Enrollment. These allow for remote management right out of the box, making the enrollment process easier for IT administrators.
Apple Business Manager is the answer to Android Enterprise for Apple devices. It enables devices purchased from authorized resellers to be set up for zero-touch deployment, or they can be added to ABM using Apple Configurator.
If a device does not support these solutions, MDM solutions such as Tabnova should be able to provide alternative enrollment options. For example, an MDM solution could allow Android users to scan a QR code to sign up for the organization's lifecycle management program. If this isn't possible, an MDM administrator may need to manually enroll new devices, which can be time-consuming.
To ensure unified device management, businesses can use enterprise mobility management (EMM) solutions, which enable centralized management of both company-owned and personal devices. EMM can help businesses apply consistent security policies and settings across all devices, regardless of ownership. With EMM, businesses can also provide access to corporate data and applications on personal devices while keeping that data separate from personal data. By implementing EMM, businesses can achieve unified device management, even in the context of BYOD policies.
Given that mobile devices are an increasingly significant part of an organization's IT assets, it's crucial to select an MDM solution to manage and secure all mobile devices used in the organization.
Provisioning:
The provisioning, deployment, management, and retirement of devices are integral components of an organization's device management framework. Such a system must conform to the policies of the company and be capable of handling both company-owned and personal devices.
After a device has been enrolled, it is necessary to provide it by configuring security settings, adding or removing apps, and controlling access to device content. In addition to simplifying the process, an MDM solution can provide an Enterprise App Store to facilitate access to pre-approved apps, minimizing the risk of using unauthorized apps or services that could jeopardize sensitive data.
Deployment:
Once configured, devices must be deployed to their intended users, which can often entail shipping devices to remote locations. Personalization, including preloading necessary security certificates, is also critical to ensure that users can immediately begin utilizing the device.
Management:
The management phase of the device lifecycle is a continuous process that encompasses several years. It is essential to monitor devices, update apps and operating systems, and investigate potential issues to ensure the efficient operation of IT resources. This process can be streamlined by using an MDM solution to automate the necessary administrative tasks.
Retirement:
When devices have reached the end of their useful life or have been lost, stolen, or destroyed, they must be retired. An MDM solution can support the secure deletion of confidential data from devices and removal from the system to safeguard sensitive company and customer data.
An MDM solution capable of handling all aspects of the device lifecycle is crucial in today's increasingly mobile workplace, where companies must ensure that their IT resources remain secure and efficient.
The Significance Of MDM
The advent of mobile devices has ushered in an era of unprecedented mobility, enabling workers to operate from any location at any time. However, this enhanced flexibility has presented new challenges for modern employees, and the burden of ensuring device security and monitoring has fallen heavily on IT departments. Thankfully, Mobile Device Management (MDM) has emerged as a solution to these concerns, enabling businesses to safeguard their devices and minimize potential risks.
Remote Employees
The proliferation of 4G and the recent introduction of 5G has enabled remote work on an unprecedented scale, opening up new opportunities for UK businesses. While some companies may still be hesitant about the idea of remote working, the advantages are clear and widely recognized. With out-of-the-box MDM solutions, businesses can provide their employees with the necessary resources to make mobile work a reality.
Bring Your Device (BYOD)
As more devices become capable of accessing corporate data, the cost of providing new mobile devices can place a significant burden on a company's resources. To address this concern, businesses have increasingly embraced the Bring Your Device (BYOD) policy, which allows employees to use their personal phones or laptops for work purposes. However, this approach does raise issues regarding security and control, which Tabnova MDM solutions can help to mitigate.
Hardware Variety
The wide variety of hardware, software, and productivity apps available in the market presents an additional challenge for IT departments. Without an MDM solution, the ability to configure routine updates is limited, which can impact user satisfaction and put the company at risk of data breaches. A properly integrated MDM system can streamline these updates and ensure all devices are up-to-date and secure.
Security
Security is a top priority for any organization, and modern businesses must prioritize MDM solutions to protect their mobile hardware against theft or loss. With Tabnova MDM, businesses can locate stolen or lost devices and remotely wipe corporate data, providing an added layer of protection. GDPR compliance is also a critical consideration for businesses implementing flexible hours. An MDM solution can help safeguard customer data and ensure that personal and business data remain separate.
Deployment
Tabnova MDM solutions also streamline the deployment process, saving businesses valuable time and resources. Major hardware manufacturers such as Apple and Android have implemented their own rollout platforms, making it easier for businesses to manage and deploy new devices throughout their organization.
The Most Crucial MDM Features
Various MDM tools provide extensive features, supporting diverse operating systems. Typically, you may manage configurations and applications, secure data and devices, view your device inventory, enforce standardized device policies, and remotely update software. However, some solutions even offer expense, identity, and access management. To ensure the most suitable MDM software for your organization's needs, it is wise to conduct a comparative analysis of different MDM solutions' offerings. Here is a summary of the top seven crucial functionalities that an MDM must provide:
Device Inventory
MDM software collects various software and hardware data on devices, assisting businesses in monitoring and tracking both company-owned and Bring Your Own Device (BYOD) devices. You can view ownership details, security, warranty status, installed configurations and applications, and current location, along with other details.
Limitations and Configurations
Remote device configuration is one of the most significant benefits of MDM. Organizations can protect data, comply with regulations, and provide employees with necessary tools using different configuration and restriction options. MDM facilitates the installation of all required settings (such as VPN and Wi-Fi) on devices and sets usage limitations.
Content and Application Management
To ensure employees can access the necessary programs and files to be productive, businesses can use MDM to update applications and centrally manage all mobile content. Additionally, apps can be added to or removed from the device.
Data and Device Security
Several security measures can be taken to ensure the device's security and its confidential data. Businesses can mandate disk encryption, create secure containers that separate corporate data from personal data, and use strong passwords using MDM. Furthermore, MDM can help you locate a lost device or remotely wipe the data if the device is not recovered.
Enforcement of Policy
Standardized device policies help businesses standardize device management, ultimately improving efficiency and ensuring compliance with legal requirements. Companies can deploy various policies to devices in mass, allowing them to pre-select the configurations, limitations, and applications that should be installed on the devices.
Automation
When managing numerous devices, automation is beneficial. Most mobile device management systems allow security framework device enrollments via Android Zero-Touch Enrollment, Apple Business Manager, Apple School Manager, or Samsung Knox Mobile Enrollment. Additionally, businesses can use MDM to deploy all configuration updates and apps to devices autonomously, complying with corporate policies when these built-in applications connect to an MDM system.
Remote Maintenance
MDM enables remote upgrading and servicing of devices, saving significant time as employees do not have to visit the IT department physically. All software configurations, device diagnostic testing, and troubleshooting can be conducted over the air.
In conclusion, mobile device management (MDM) solutions are vital for organizations to efficiently manage their mobile devices' security and configurations, whether they are company-owned or BYOD devices. The seven critical functionalities of MDM include device inventory, limitations and configurations, content and application management, data and device security, enforcement of the policy, automation, and remote maintenance. A comparative analysis of different MDM solutions' offerings is recommended to ensure the most suitable MDM software for an organization's needs.
Additionally, with the increasing need for unified device management and enterprise mobility management, organizations should consider MDM solutions that provide comprehensive features to manage all mobile devices' aspects.