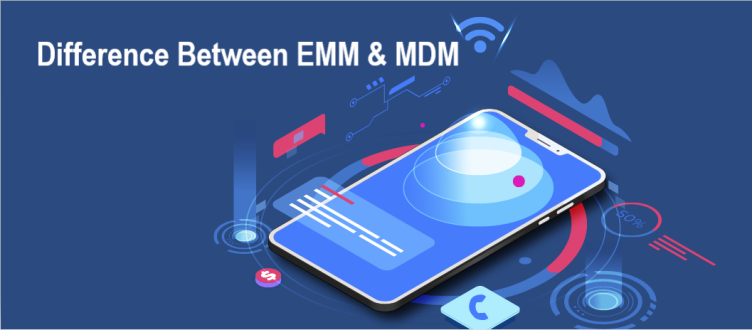 What is EMM & How Does it Differ from MDM?
Businesses that have a large mobile fleet workforce often find it challenging to manage and control their mobile devices. It is imperative that a company has an efficient system to monitor and operate their mobile devices, confined within their corporate policies, in order to have productive growth.
There are various tools that companies use to manage their mobile devices, like enterprise mobility management (EMM), unified endpoint management (UEM), and mobile device management (MDM). These tools have varying features, although their basic operations revolve around the security and privacy of mobile data, and strive to increase employee productivity.
Often people mistake EMM solutions and MDM software as one and the same thing. Let's take a look at each and see how they differ from each other.
What is MDM?
MDM is the remote management of mobile devices, enabling users to engage in preset tasks on their mobile devices. MDM software carried a few useful features like security measures, location tracking, and enrolment.
Moreover, if a device under the MDM software went missing, the IT department is able to wipe the data remotely. This ensures the data is not stolen or misused.
MDM is a good way of keeping mobile devices under an enterprise managed efficiently. When employees started carrying two different devices, BYOD came into being, and employees could shift between personal and work data seamlessly.
This transitional management gave rise to mobile application management. MAM focused on specific applications on the devices, rather than targeting the whole device.
When it started, MDM didn't have the ability to manage content and apps. But since, it has evolved and grown with more features like installing apps, configuring different profiles for BYOD, wiping data, and enforcing passwords. Additionally, it could manage and secure mobile devices running on different platforms through one console.
What is EMM Solutions?
Enterprise mobile device management is software that enables the user to control and monitor their employee's mobile device behaviour securely. This is especially true of those businesses that house BYOD ecosystems.
EMM has its roots in MDM. MDM could only focus on the control of mobile devices and their security. EMM is a combination of different security solutions like MDM, MAM, MCM, and IAM. While these four started out as individual products, they are now part of the enterprise mobility management suite.
The best enterprise mobility management solutions are those that work as a unified endpoint management system. This allows the company to manage various devices from one central server.
How To Choose Between EMM & MDM?
When you are out looking to secure and manage your mobile workforce, the most confusing question would be which to choose - EMM or MDM. There's one way to deal with that question, and that's checking how the answer to the following questions fulfils the requirements of your company.
How difficult or easy is it to manage the privacy and security of your employees?
How many endpoints are there for you to manage, and which of them need to be managed?
Are you looking for a cloud-based deployment or an on-premise deployment? Which one would suit you best?
Are you looking for protection against online security issues and data breaches?
Do you need to add new applications or technologies for management?
How big is your organization?
Does your business host BYOD or are there corporate devices?
Which management features do you need for your employees?
Would you require tech support to deploy endpoints?
Does your company need to scale the enterprise mobile device management system to accommodate the requirements of businesses?
As you can see, EMM solutions and MDM solutions are all different levels of mobility management that are designed and deployed to take care of any security or privacy concerns. The primary difference between the two is the level of management these systems require.
While MDM is focused on the management of smartphones, enterprise mobility management is an expansive system that comprises MAM, MDM, MSM, MCM, MEM, and identity and access management. Additionally, EMM software can act as a unified endpoint management system that enables the management of various endpoints and mobile devices in one place.
Once you understand what these two management tools comprise and the fine line of differences between them, you will be better equipped to select the right one for you.
For more info, click on the below link:-
https://www.tabnova.com/emm
Contact Us:-
contact@tabnova.com
service@novaemm.com