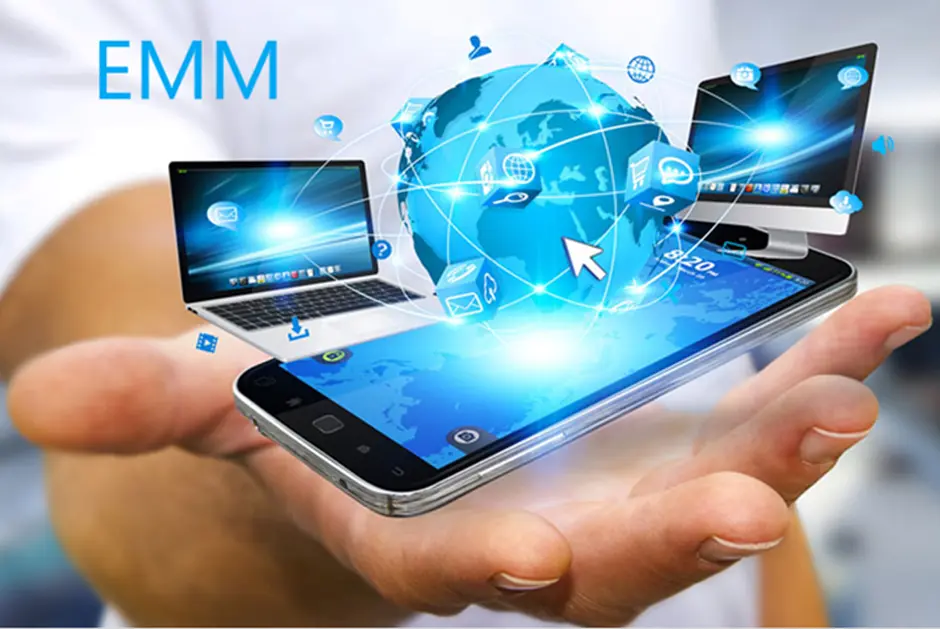 Choosing the right Enterprise Mobility Management solution
Best Enterprise Mobility Management solutions ensure that the data of an organisation or business in an employee's mobile device remains under robust security. This fact holds irrespective of whether the mobile device is employee-owned or corporate-owned.
Best Enterprise Mobility Management solutions have various services to protect an organisation's intellectual property and customer PII (Personally Identifiable Information). Enterprise Mobility Management is integrated with other IT applications and systems to deliver numerous business functionalities.
EMM solutions can be different for different organisations, depending on their requirement. While some solutions focus on securing specific applications, others protect the complete devices. The latter type can lock down employee devices, restrict the installation of applications, or uninstall applications and data in the event a device is lost or gets stolen.
From focusing solely on mobile devices, EMM has evolved to cater to mobility over a broader range of networks and devices, including macOS, Windows, etc. It has brought access management and enhanced user experience for users of mobile devices and applications. When the global economy relies heavily on mobile devices, choosing the right EMM can be critical, especially since not all EMM solutions are created equal. A few years ago, businesses were all about Enterprise Mobile Device Management solutions to keep their devices safe.
But as the capabilities of a mobile device expanded, and as applications and mobile content started pushing the boundaries, EMM solutions began overtaking Enterprise Mobile Device Management (MDM).
If you have an efficient EMM, it gives you or your business significant and critical control of all your mobile computing assets. It doesn't matter whether you have one, ten, or hundred and thousands of devices; you can lord over the entire device fleet without hassle. It provides the IT admins and mobile workforce with the required assets to increase worker productivity while minimizing downtime.
EMM & Remote Management
An effective remote management system can help you keep your devices up to date by remotely updating firmware, software, and security patches. This activity ensures that your mobile devices are held in the workforce circle, causing unnecessary interruptions.
Additionally, through remote management, one can also guide and teach users how to operate and navigate a specific application or device in the field. Using analytics, you can monitor the status and health of instruments employed in the area, like the battery or operational level.
Another benefit of this system is the ability to track devices and know their location. Moreover, remote management allows you to time updates for the device, thus ensuring minimal interference during work hours.
Speedy Deployment
A good EMM solution can deploy devices quickly and seamlessly. That means the device can be up and running with minimal effort from IT admins and users.
When we switch on a device for the first time, it connects to the internet through Wi-Fi or a cellular network. If the device detects an assigned configuration, it pulls down the details and enrols according to the instructions. While this process previously took hours, now, with a robust EMM solution in tow, the entire process gets over in minutes.
Safety Net
A good EMM solution can offer prime security features that protect individual or business data. For instance, we can configure a device to be in kiosk mode only, ensuring that users can access only those authorized applications and not any other programs that may cause issues.
That also allows for improved personal safety, especially in moving vehicles. Restricting the usage of the device and applications prevents distractions and improves road safety.
Efficiency, Reliability, & Compatibility
A business requires various levels of compatibility and support. A good EMM solution provider, like Tabnova, provides a comprehensive and dedicated support package.
Our system works well with most mobile computing vendors, so our tried and tested solutions lead to deeper understanding and working partnerships than most others. This capability allows us to deliver any special requirement for your business at an affordable and speedier rate.
To know more, visit: NovaEMM